In this instalment of Education, we look at Digital Printing. Comparing two of the latest technologies— Iridesse and Indigo. We also check out some of the latest embellishments features available.
With Nick Marsh @5Digital, Auckland. Photos by Xavier Murphy@xalaphotography
'Digital printing' is a wide-ranging term that refers to methods of printing directly from 'computer-to-output'. Technically, this includes the types of laser and inkjet technologies that you might use in a home office. However, at a professional level, this generally refers to commercial technologies that run at significantly faster speeds with much greater capabilities and higher image quality.
Digital vs Offset Print
It is important to note that digital printing is NOT the most commonly used form of commercial printing when it comes to volume. Traditional Lithographic-Offset printing (also referred to as 'offset', 'litho' or 'process' )—is still very much the 'go-to solution' for medium to large print runs. The reason for this comes down to economies of scale. Digital printing has low upfront costs—but is more expensive per impression, thus making it best suited to short runs of under 1,000 SRA3 sheets. By comparison, offset is a much more involved process with significantly higher initial set-up costs—but is much more economical per unit. As a result, most mass-printed communications use offset printing.
From a quality perspective, when comparing digital print with offset, traditionally—the latter has offered the highest image quality. However, today some of the latest digital print technologies offer reproduction quality very close to offset.
Digital vs Offset Colour Spectrum
Offset and most digital printing technologies are CMYK based processes. They use Cyan, Magenta, Yellow and Key-Black to lay down the printed image. Yet both print methods also allow the use of 'specials' to extend their colour spectrum beyond straight CMYK. These specials are mainly achieved in offset, using Pantone PMS 'Spot colours'. These are liquid inks pre-mixed to a matching formula to the desired hue (a bit like mixing paint). By comparison, digital presses use dry or liquid toners fused to the paper. This is a very different process to offset.
Digital presses do not run 'Pantones'—but instead, use special coloured toners to extend their printable range. Depending on the specific digital system employed—and all are different—these digital specials may include fluoros and metallics (that mimic Pantones), plus white, clear and high-build (raised) varnishes. This significantly increases the scope for what digital printing can create.
The 'We're Back Australia' Postcard
This brings us to the DL postcard created for issue 18 of GSM which our friends at 5Digital (Auckland) printed.
The postcard's design uses some of the latest digital specials—gold, silver and fluoro toners, plus a high-build gloss.
In addition, we have velvet laminated and digitally foiled the postcard. Both these processes are offline.
Despite the apparent simplicity of the design, producing the postcard required significant troubleshooting. This resulted in the use of two different print systems—an HP Indigo and a Fuji Iridesse.
It is important to note that a commercial project does not usually use two different digital print systems. However, this allowed us to make the most of the unique attributes of each system for the purpose of this article.
We created the original artwork in Adobe Illustrator on two separate DL artboards with 5mm bleed. The team at 5Digital then imposed the DL artwork 'six-up' on an SRA3 sheet (450mm x 320mm) and printed in three passes.
How we printed the GSM Postcard
Pass One—on the HP Indigo (Australian Side):
The 'Welcome Back Australia' side uses CMYK + fluoro green. The artwork diagram shows the colour swatches from Adobe Illustrator; the yellow and black are straight CMYK mixes,  we set up the fluoro green as a Spot Colour as denoted by the icon in the colour swatch. 5Digital printed this side of the postcard in one pass on the HP Indigo using a 'one-shot' lay down. This means all the toner was built-up on the printer drum before being transferred to the card stock (as opposed to laying down the CMYK followed by the fluoro green in a separate pass). The 'one-shot' lay down solves any potential registration problems caused by multiple passes.
Pass Two—on the Fuji Iridesse (NZ Side):
The 'We belong Together Like…' side uses metallic silver and gold reversed out of CMYK black. 5Digital used the Fuji Iridesse for this as the HP Indigo does not offer metallics. Again, we set up the silver and gold in the artwork as Spot Colours, which have been trapped out of the CMYK black.
Velvet Laminate:
Between the second and third pass, we velvet laminated the printed sheets on the NZ side. This offline process (i.e., not done on either digital press) is fundamentally the same as laminating for offset printing. The laminate, a 40um scuff-resistant film, is placed against the printed sheet and heated under pressure. A resin on one side of the film activates under the heat, adhering this to the card.
Pass Three—on the HP Indigo:
The running sheets were put back onto the HP Indigo for the high-build gloss following the velvet laminating. Looking at the above artwork, we have created this special with a magenta preview colour. However, it is, in fact, a Spot Colour like the gold, silver and fluoro green. The heat-wave graphic elements 'overprint' the underlying black; if you look at the artwork in the second pass you can see we have not 'trapped-out' these graphics.. We laid down the high-build gloss by using multiple hits to achieve the resulting height.
Digital Foil:
Lastly, over the high-build gloss we have run a digital foil—to create this raised foiled effect. Like the velvet laminate, this is an offline process using a separate (non-printing) machine. As the foil goes straight over the high-build gloss, this uses the same Spot Colour in the artwork.
Finishing:
Once complete, we trimmed the running sheets to DL size (100mm x 210mm) and dispatched them to our mailing house to collate into GSM.
Digital Print Systems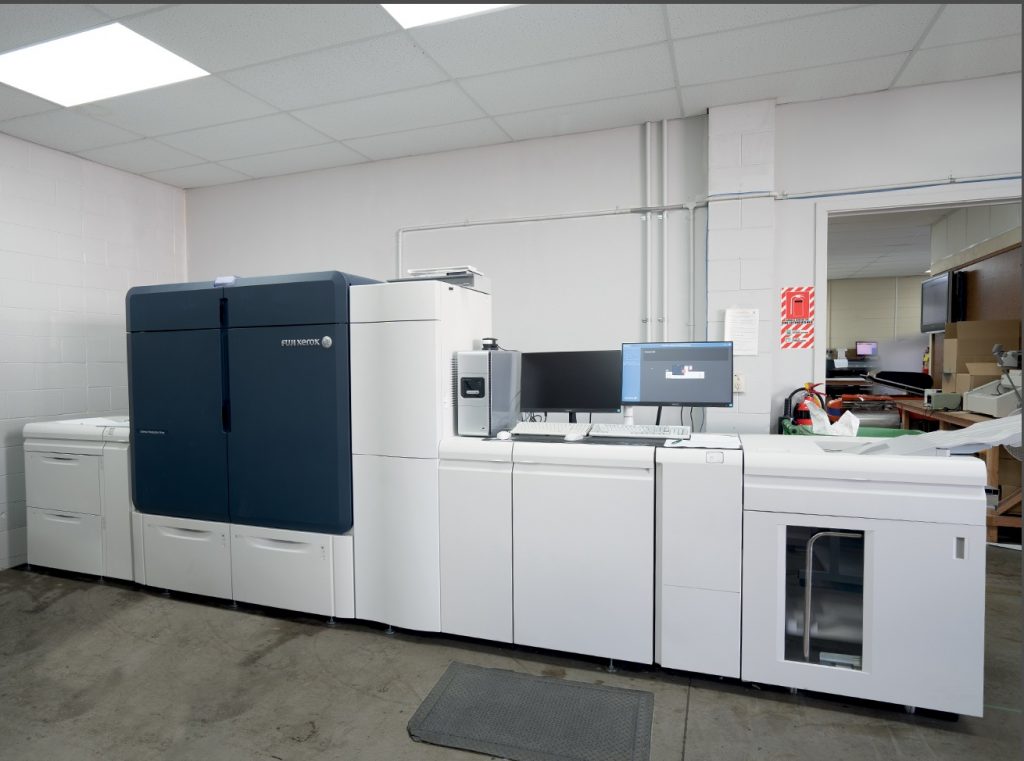 The digital press at your chosen print house will ultimately determine a number of factors about your project, based on the capabilities and limitations of their system.
There are many types of digital print systems and they are by no means equal. With this in mind, it is good practice to ask what 'specials' are available, plus maximum sheet sizes and print areas—keep in mind digital presses cannot print to the edge of the sheet as they need a grip area. Paper stock is another consideration. Not all paper or card stocks are suitable for digital printing—and even stocks that are 'digital approved' may not work on all types of digital presses. It pays to ask the printer what the system will handle and run a test if necessary.
We used both an HP Indigo and a Fuji Iridesse to print our postcard. These two systems are among the most advanced on the market, offering many print 'specials' as per the below overview:
Just Press Print
Modern digital print systems such as the HP Indigo or Fuji Iridesse (above right) are very different from the average home office desktop printer both in terms of size and cost. Not only do these systems offer market
leading image quality and reproduction speed, but you can also couple them with inline binding and other post production systems.

The above image shows the ink cartridges inside the HP Indigo—from left to right these are:
> Fluoro Green
> High-Build Gloss
> Key-Black
> Yellow
> Magenta
> Cyan
> White
GSM would like to extend our thanks to the team at 5Digital (Auckland) for allowing us access to their printery and assisting with the technical information in this article.
This article was originally published in GSM18. To read this, and other great articles, purchase this issue here.