If you lived in New Zealand in the late 1960s—70s, chances are you have seen the work of Mark Cleverley in the form of tableware by Crown Lynn. But as we have discovered, Mark was not only a creator of ceramics – but a true multidisciplinary in every sense of the word "Design".
Mark Cleverley became one of Aotearoa New Zealand's leading creative influencers through a six-decade outpouring of ideas and creations—spanning ceramics, architecture, graphics, type design, textiles… the list goes on. In 2014, in recognition of his significant contribution to the profession, The Designers Institute of New Zealand bestowed on Mark a prestigious Black Pin. The same year also saw an exhibition of Mark's works, curated by Jonty Valentine, senior lecturer at Unitec Institute of Technology (Auckland), and hosted at Objectspace in Auckland. Sadly, Mark passed away in 2022, aged 88. To honour his legacy, we asked Jonty if he might offer some reflections and background on this extraordinary creative thinker. Here is what Jonty had to say;
Mark began his design career in 1951, working part-time at the architectural practice Frank Gilman and Doug Angus. At the time, he was still a high school student attending Hamilton Technical College (now Fraser High School). Mark had caught the bug for what was then called 'technical drawing';
(Mark) '…I had a very good teacher at school. When I shifted school from Otahuhu to Hamilton… in manual, the teacher taught instrumental drawing (manual was a school subject covering a range of practical and technical skills). I'd never had this before, and it really crystallised what I had been thinking, but didn't know how to put into words. It was the use of orthographic projection—two-point perspective and all that sort of drawing: how to draw an arc, how to draw an approximate ellipse arc with instruments…'.
Education
In 1952, Mark completed his schooling and got his first full-time job as a draughtsman for the New Zealand Co-operative Dairy Company in Hamilton. During this time, he began tertiary study at the School of  Architecture at Auckland University. In 1962, Mark met John Simpson, head of the Ilam School of Fine Arts at the University of Canterbury. This encounter led Mark to relocate to Christchurch and enrol to study Graphic Design. With Simpson's encouragement, Mark received one of the newly established QE2 Arts Council scholarships for tertiary study in design. While studying, Mark also worked as a design draughtsman for leading local architecture firm Warren and Mahoney—incidentally, Mark designed the original logo that this celebrated firm continues to use today.
Career
After graduating from University in 1964, Mark secured a graphic artist role at Christchurch-based firm Design Associates. He subsequently went on to work at Ruck, Wrathal Advertising in Auckland (1965); UEB Packaging, Auckland (1966); and then Crown Lynn Potteries in New Lynn, Auckland (1967). Mark produced numerous ceramic tableware designs (often in collaboration with Dave Jenkin) for Crown Lynn Potteries, which subsequently graced homes across New Zealand. Later in his career, he worked as a visiting lecturer at Ilam (1980), followed by a tenure as a senior tutor at Wellington Polytechnic (from 1981 until he retired in 1996).
Recognition
Over his career, Mark received many local and international awards. In 1966, the New Zealand Society of Industrial Designers made him a member, and in 1972, the prestigious UK-based Society of Industrial Artists and Designers (SIAD) accepted him. Two years later, Mark was the New Zealand representative at the 1974 ICSID Interdesign Conference in Canada. On numerous occasions, Mark's work
appeared in the New Zealand design journal Designscape. And, he was bestowed a number of commissions from various design competitions. Mark's career moved towards research when, in 1987, he received a Winston Churchill Fellowship for a project on bilingual design. In 2013, he was elected into the Massey University College of Creative Arts Hall of Fame. And in 2014, he received a Black Pin from the
Designers Institute of New Zealand.
Reflection
Reflecting on Mark's work allows us a window into a different era and mindset— where creativity required a lot of faith, hope and an acceptance that not everything was controllable. Today, digital technology allows a designer to see the end output, removing a lot of guesswork. However, most of Mark's work pre-dates this. A design was never fully realised until completely finished. The process often required collaborating with numerous specialists across a broad time frame—and there were often significant variations between prototypes and final output (particularly for product designs). Mark referred to this complex dynamic as 'working in the third person'. As he explains;
'That's the difference between an artist and a designer. They've got completely different ways of thinking. An artist thinks completely in the first person. Whereas a designer is thinking in the third person all the time, isn't he? Like, I mean, as a designer, we were not producing the end product; we created documents and prototypes and all of that towards the end product. To do this, you have to think about the next stage beyond you. So, you're always working in the third person. [By comparison] today, designers can do almost everything: draw, print, and even distribute designs and products. Our mock-ups, our means for proofing work, are almost as accurate as the final product. And, of course, that is great. But I think that somehow, something of the old magical hands-on, collaborative making process has been taken away from us.'
A Range of Work by Mark Cleverley
'Echo'
Designed in 1969, 'Echo', was Mark's first creation for Crown Lynn. Making the final product tested the factory on a technical level—which was not intentional on the designers part, but simply the result of not fully understanding some of the limitations of the production process. None-the-less, the issues were overcome and Echo went on to become very collectable. Mark commented that, 'They [the factory] went out of their way since it was my first shot. After about six months with the firm, they told me what I could, or could not do. At one stage, the accountant told me what I should do in designing uprights (such as jugs, cups etc)'.
Architecture
Architecture played an important part in Mark's design career. As a draughtsman, he worked on numerous projects—such as this example, B & D Oosterbaan house No. 1. Mark produced these concept drawings  in 1973. The finished home (seen above), photographed in 1978, shows the strong geometric concrete forms typical of the 'Brutalist' movement, an international style based on a utopian social vision and innovative approaches to materials. Brutalism thrived mid-1900s through to the 70s. The influence of this movement on contemporary architecture cannot be understated.
Warren & Mahoney Branding (1963)
Whilst studying at the Ilam School of Fine Arts, Mark Cleverley worked a holiday job at celebrated architecture firm Warren and Mahoney. During this time he designed this logo for the firm. Initially based on the Univers typeface, the logo developed into a single continuous line, joining the W and M letter forms together, in a style influenced by Greek Fret designs that are common repeating motifs on classical architecture. Mark took the design to Sir Miles Warren—who showed great interest. The firm still uses by the logo today.
Photos: Courtesy of Ba
Logo Design
Created in 1978, Mark developed this logo and letterhead for the Birkenhead United football club youth team for their tour to the USA. The strong geometry underpinning the design is particularly evident in the concept drawing, which Mark executed using the same technical drawing skills as employed in
architecure at the time. This technical drawing approach was the standard method of producing graphic design work in the pre-computer era.
Type Design
Demonstrating his versatility, Mark Cleverley designed a number of typefaces over the course of his career:
> Mark designed Kitset in 1974, as an entry to a competition run by Letraset type foundry. Kitset consists of fifteen base shapes which have been rearranged to create the alphabet and glyph sets.
> Slight Sans, 1988.
> Mark designed Jonathan typeface in 1970 as the next-iteration of an earlier creation. One distinct characteristic of the typeface is that the x-height of the lower case letters is the same as the cap-height.
> Untitled Roman Sans Rounded, 1980.
Crown Lynn Potteries—Kiwi Icon
We can trace Crown Lynn's origins back to 1854 when Rice Owen Clark, an English immigrant, started manufacturing earthenware pipes to help with land drainage in the Hobsonville, Auckland region. However, it was not until the 1940s that the company, then known as the Amalgamated Brick and Pipe Company, started producing tableware due to the impact of the Second World War on international trade. In response to the increased demand for locally made ceramics, Tom Clark, the founder's grandson, added a continuous tunnel kiln to the company's plant in 1941, and the first mass-produced tableware soon followed.
After the war, the company saw an opportunity to produce 'specials'. These were collectable, short-run tableware designed to compete with imported brands such as Royal Doulton. And thus, the Crown Lynn Potteries brand was established. In the early 1950s, the company hired experienced European-born ceramic designers such as Frank Carpay, Mirek Smisek and Ernest Shufflebotham to enhance its creative output. By the 1960s, Crown Lynn was exporting to Australia, the Pacific Islands, southeast Asia, the USA and Canada. At the peak of its popularity, the company employed 650 staff and produced over 17 million pieces of household pottery annually, making it the largest tableware producer in the southern hemisphere.
Unfortunately, by the 1980s, Crown Lynn could not compete with more advanced manufacturing processes from Asia and Europe. As a result, the New Zealand factory closed in 1989 and they sold the brand name to a Malaysian porcelain producer. Today, the Portage Ceramics Trust preserves the legacy of this New Zealand heritage brand through the Crown Lynn and Clayworks Museum Te Toi Uku (//tetoiuku.org.nz).
Mark Cleverley at Crown Lynn
Mark Cleverley (right) and Dave Jenkins (left) in the design studio at Crown Lynn Potteries, Auckland, circa 1972. The duo collaborated on many designs until Dave retired. Note the absence of computers which did not arrive on the mainstream design scene until the early 90s. (the original image was shot on 35mm transparency).
Mark Cleverley worked within the design team at Crown Lynn Potteries from 1967 to 1979, producing numerous pieces. Some notable examples are: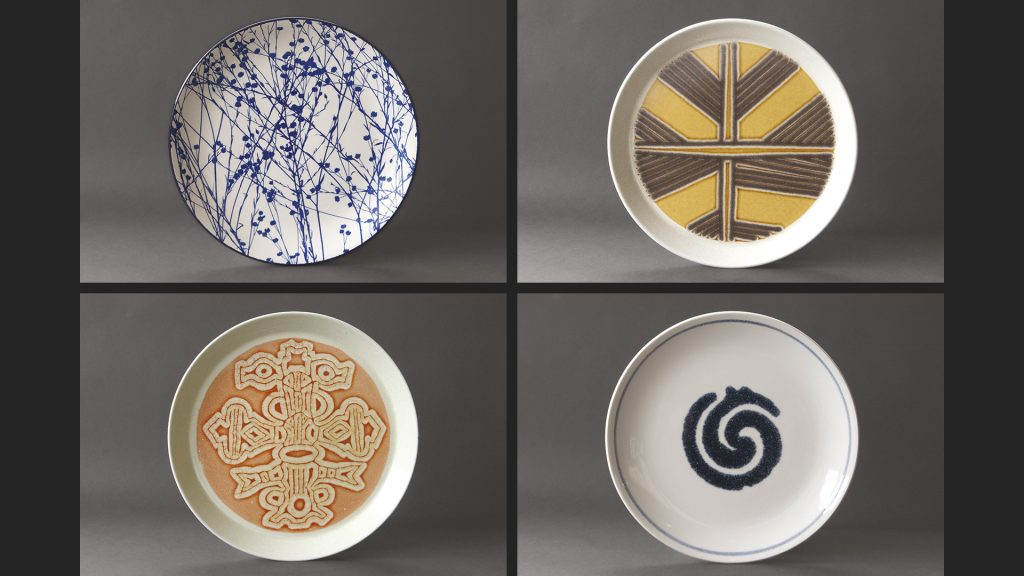 Top left. An unnamed prototype, created in 1970.
Top right. This unnamed experimental design from 1970 drew inspiration from Aboriginal art.
Bottom left. Another unnamed experimental design from 1970, which drew inspiration from a Nigerian pattern.
Bottom right. This 1970 eye-catching design was an early submission to the Royal New Zealand Air Force (RNZAF) for use as in-flight tableware on their diplomatic aircraft. Mark derived the design from a Māori fish hook.
Love of Line Drawing
Mark's love of line drawing was a consistent aspect throughout his career.
This earlier example from 1964, is a film positive of Mark's student work from his time at Ilam. The design, based on letter/numeral forms and produced in simple black & white, was used for screen printing onto fabric to make curtains.
Postage Stamp Designs
Mark created numerous stamp designs for NZ Post from 1968 onwards. The small format of postage stamps presents unique challenges to designers working in this format. Particularly in communicating ideas without the use of significant detail. Hence—this very distinct, graphic illustrative approach based on silhouette and block colour.
GSM would like to thank Jonty Valentine from Unitec, Victoria McAdam from Objectspace, Paul Bateman from Bateman Books, and the Designers Institute of New Zealand for their assistance compiling this article.
All quotes originate from interviews between Mark and Jonty conducted and recorded in 2013. All images are ©Copyright and reproduced with permission from their respective owners. Many of these images were originally published in 'Mark Cleverley, Objectspace: Master of Craft' by Jonty Valentine, 2014
(ISBN 978-86953-869-9)
This article was originally published in GSM21. To read this and other great articles purchase this issue here.