INSPIRATION: Susan Kare: Imagine designing a visual language for a completely new medium where no precedent exists—that was the challenge during the 1980s for a handful of graphic designers working on the revolutionary graphic-led Mac OS System 1. One of those pioneering designers was Susan Kare. GSM takes a look at Susan's work—some of which are now cultural icons of the twentieth Century.
PRINT & PAPER: We cover some basics around paper including how to choose stocks for print projects. Plus, we explain some common 'paper' terms—like what exactly is an uM…? Um…
QUICK CHAT PRINT: GSM turns five years young! To celebrate, we asked a few industry members about the challenges facing designers when it comes to print—and how GSM fits into the picture by bridging some of those gaps.
INPRINT: Showcasing great print design work from around the region as submitted by readers.
BIG IDEA: BJ Ball Courier Bags – In this instalment of The Big Idea, we take a look at the new home compostable courier bag by BJ Ball. No more non-biodegradable plastic courier bags or flow wrap.
QUICK CHAT CREATIVE: We ask some design industry members for their thoughts on print and GSM and announce the top three covers from issues 1-15 as voted by our readers.
ENVIRONMENT: The concept of a circular economy is not new. However, with increasing pressure on the environment, the time for change is now. In this article, we explain the concept of a circular model—and how paper fits into a greener future.
ARTWORK: We showcase the talents of Janine Wareham and her energetic style of integrating type into illustration.
EDUCATION: Intellectual Property – A basic understanding of Intellectual Property is important for any creative producer—especially if you are self-employed or own your own studio. GSM takes a look at the legal soup that is—Intellectual Property.
WORKSHOP: Inside a Printery – What happens when you send an artwork file to an offset print house? We wanted to know, so we sent designer and photographer, Marty Anderson along to Spectrum Print in Christchurch to find out…
SPECIAL FEATURES: Being a Special Edition, GSM Re-Edit covers a number of special features including the 10 different stocks used to print it – we explain what we used, where and how. We also take a look at Designline, BJ Ball's sample service for graphic designers and how it can help you. As well as showcasing the winners of the graphics category from both NZ Best and Australian AGDA Awards.
>> Pages 1 – 10, 2 colour, Pages 75 – 78, 1 colour, All other pages full colour
>> 132 pages, Trophee Intensive Orange 210gsm, Trophee Lilac 160gsm, Evergreen Environment Concrete 104 gsm, Advance Laser 120gsm, Sumo Gloss 113gsm, Sumo Matt 113gsm, Eco100 100gsm, Eco100 Hi White 120gsm, Knight Smooth 105gsm, Knight Smooth Vellum 100gsm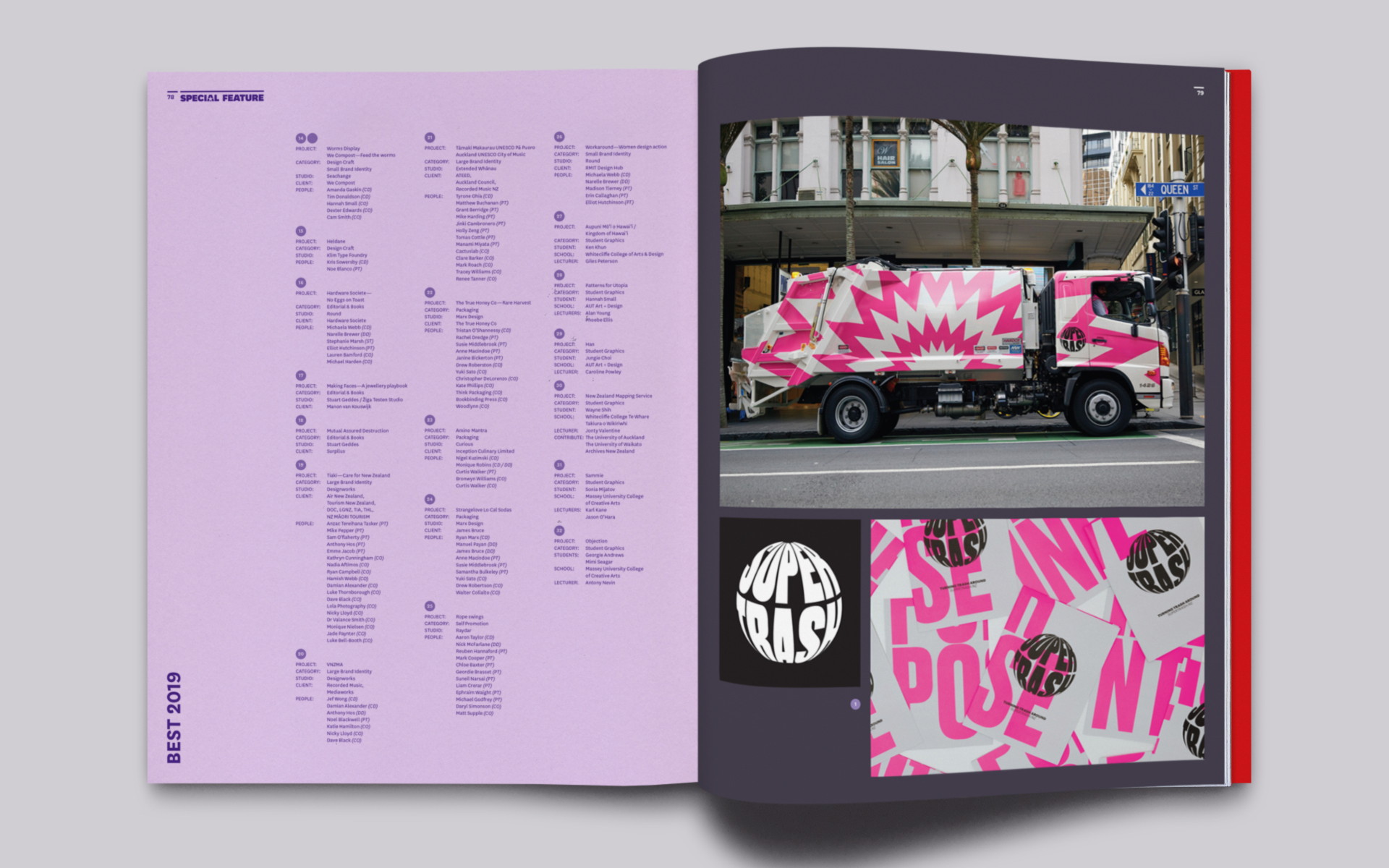 BJB1885-GSM-Re-Edit_GSM_Website_2_1920x1200
BJB1885-GSM-Re-Edit_GSM_Website_3_1920x1200
BJB1885-GSM-Re-Edit_GSM_Website_4_1920x1200
BJB1885-GSM-Re-Edit_GSM_Website_5_1920x1200
BJB1885-GSM-Re-Edit_GSM_Website_6_1920x1200
BJB1885-GSM-Re-Edit_GSM_Website_7_1920x1200
BJB1885-GSM-Re-Edit_GSM_Website_8_1920x1200
BJB1885-GSM-Re-Edit_GSM_Website_9_1920x1200
BJB1885-GSM-Re-Edit_GSM_Website_10_1920x1200
BJB1885-GSM-Re-Edit_GSM_Website_11_1920x1200
BJB1885-GSM-Re-Edit_GSM_Website_12_1920x1200
BJB1885-GSM-Re-Edit_GSM_Website_13_1920x1200