2022 delivered another great crop of entries into the National Design Awards in both Australia and New Zealand. GSM takes a look at a couple of print -based projects that took top-honours.
AGDA & Best Awards
The Australian Graphic Design Association (AGDA) Design Awards and the BEST Awards (hosted by the Designers Institute of New Zealand (DINZ)) are two annual events recognising excellence in our industry. For readers unfamiliar with these awards, entries into both are open to studios on either side of the Tasman. Kiwi studios can enter AGDA, Australian designers can enter the BEST awards. Both AGDA and Best offer a wide range of entry categories. These include Packaging, Brand Identity, Books, Motion, Digital, and Student Work. And whilst there are many similarities between these events, the awards themselves differ as follows:
AGDA Design Awards:
For AGDA, the award levels are (in ascending order of significance) Merit, Distinction & Pinnacle. Only a handful of Pinnacles are issued each year. In addition, AGDA also bestows an award for Studio of the Year and Emerging Designer of the Year. They also recognise individuals who have made significant contributions to graphic design through induction into the AGDA Hall Of Fame.
BEST Awards:
Following a slightly different format but with similar intent, New Zealand's Best Awards are allocated in the following order: Bronze, Silver, Gold and Purple (Best in Category) 'Pins'. Like the AGDA Hall of Fame, DINZ recognises outstanding achievement in design by bestowing Black Pins. In addition, a small number of special awards recognise Public Good, Value of Design and Toitanga—an award for work of cultural significance.
And now—to the winners, of which we could fill numerous issues of GSM (we really could)… But to showcase from the class of '22, we have chosen the following two; from the AGDA awards—a Distinction winner in the Print category, and from Best —the Purple Pin winner in the Graphics category. Enjoy.
Best Purple Pin Winner
PROJECT: 'Hellzapoppin'! The Art of Flying Nun' Exhibition Catalogue
STUDIO: Bathgate Design (Christchurch)
CLIENT: Christchurch Art Gallery Te Puna o Waiwhetū
TEAM: Alec Bathgate (Design), Riley Clarke (Production Art), Emma Bathgate (Project Management), Peter Vangioni (Curator), David Simpson (Editor), John Collie (Photography)
OVERVIEW: Indie music label Flying Nun Records formed in Christchurch in 1981 and quickly became a cultural kiwi icon. To celebrate the 40th anniversary of Flying Nun, Christchurch Art Gallery Te Puna o Waiwhetū hosted 'Hellzapoppin'!'— An exhibition of vintage artworks and memorabilia from the label. Published in support of the exhibition, 'Hellzapoppin'! The Art of Flying Nun', showcases original artworks, designs, film, record covers, posters and photography from some of New Zealand's favourite bands of the era. A labour of love, Christchurch Art Gallery Te Puna o Waiwhetū and Alec Bathgate collaborated on the design of the book. Alec, himself being a member of Flying Nun pioneers' Tall Dwarfs (alongside the legendary Chris Knox). Alec also contributed artwork, photography, illustration, and album covers to Flying Nun—some of which feature in the publication.
Paying homage to the lo-fi nature of the exhibition works—the stylistic inspiration for the publication was graphic design from the pre-computer era, with a subtle nod to the 'do-it-yourself' aesthetic of 80s music zines. Capturing this feel required such detail as tightening the tracking on type to mimic old-school Letraset.
Aside from the standard print run— a limited edition was also published. This featured a metallic ink cover wrapped in original artwork by Artist Ronnie Van Hout. Christchurch artists Tjalling de Vries and Scott Jackson screen printed these using a mixture of fluoro inks on a variety of different Colorplan coloured papers. And just like the handmade album artwork and posters from the Flying Nun era, no two were alike. 'Hellzapoppin'!' and the team at Bathgate Design also took out the gold at BEST for Publication & Book Design.
AGDA Distinction Winner (Posters—Self-Initiated):
PROJECT: Keep Running
STUDIO: XYX Lab/Monash University (Melbourne)
CLIENT: Self-initiated for public good
TEAM: Gene Bawden (AD/Typography/Design), Nicole Kalms (CD), Isabella Webb (Production manager/Design), Gill Matthewson (Writer), Jess Berry (Writer), Brett Brown (Photographer)
OVERVIEW: In late 2021/early 2022, as part of a wider project, the Australian Centre for Contemporary Art (ACCA) ran a series of exhibitions and programs titled 'Who's Afraid of Public Space?'. This highlighted the negative perceptions of accessing public spaces. Keep Running was developed by Monash University XYX Lab in response to this project. Through a series of dynamic poster and billboard installations across Melbourne, Keep Running presents statistics and statements concerning the negative perception of accessing public spaces. Keep Running uses vibrant, strong geometric typography to draw the viewer in. A stark contrast to the seriousness of the topic. The posters then tell a series of stories bringing to life the struggles of women and gender diverse people in accessing public spaces. Keep Running is a call to action—creating awareness and empathy for groups within our community who may not otherwise be heard.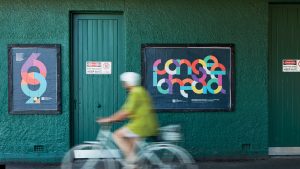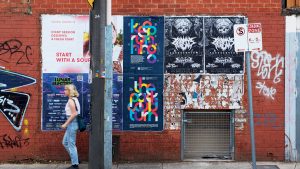 GSM would like to thank the Australian Graphic Design Association (AGDA), and the Designers Institute of New Zealand (DINZ) for their assistance in this article
For more information on entry into either awards, keep an eye on the respective websites:
The Australian Graphic Design Association (AGDA) Awards—go to: //agda.com.au
The Designers Institute of New Zealand (DINZ) Best Awards—go to: //bestawards.co.nz
This article was originally published in GSM20. To read this and other great articles purchase this issue here.