Risograph printing is basically an early form of digital printing. Let's take a look at what it is and how to design for this printing method…
Japan launched the Risograph in the 1980s as a low cost means to create colour reproductions for short to medium volumes. The technology and process have inherent quirks, including slight misregistration and uneven ink coverage. This means every reproduction is in some way unique.
Risograph Printing is not based on the CMYK colour model. Instead it uses its own distinctly vibrant colour system. Unlike laser printing, risograph uses wet ink, not dry toner. The ink is an environmentally friendly soy based ink.
How does Risograph Printing work?
Riso basically works by making a stencil of the original artwork. One stencil per colour. The stencil is wrapped around a drum filled with ink. The drum spins at high speed forcing the ink through the stencil onto the paper as it passes through the printer. Multi-colour reproductions require each ink to be laid down one at a time in separate print passes. This process of overprinting creates an end look not dissimilar to old-school screen printing.
Designing for Risograph Printing
In order to print risograph you need to design for risograph. It is important to keep the riso printing process in mind while designing. To do this you need to understand some of its' technical constraints. This way you will get a better result.
Some things to take into consideration are:
Colour
Inks have a translucent nature which means colour tones can vary depending on what paper stock they are printed on. Colour overlaying is possible with experimentation.
Paper
Uncoated papers work best. Due to the nature of the inks, Riso soy ink can struggle to print or dry on certain paper so trial paper stocks first. In New Zealand favoured papers are BJ Ball Advance laser, Eco100 and Mohawk Superfine Smooth. In Australia, Ball & Doggett Envirocare.
File Setup
Files should be PDF, with crop and bleed marks if required, set to Greyscale or Black & White and 300dpi.
Each colour layer should be saved as a separate file (label each file with the name of the colour and which order to be printed e.g. Pink1.pdf, Black2.pdf etc).
Solid colours and text should be set to registration black (100% k). This is especially important for text otherwise it will become pixilated. Text size over 6pt.
Leave a 10mm clear border on all prints. Full bleed A3 artwork is not possible when risograph printing. It can only print up to A3 (410x297mm).
Avoid heavy ink coverage close to the edge of the paper. Prints look best with an even coverage of positive and negative space.
Use trapping and bleed for full ink coverage. Registration is never perfect, but the printer does aim to get it as close as possible! Accept that this is part of the process. Every print is unique!
We strongly advice you  to contact a specialist risograph printer early in the project. They can provide guidelines on how to set-up artwork and what you need to consider as part of your overall design thinking.
These days, Risograph printing is mostly used for graphic art prints, posters or greeting cards. However, it can also be employed for a range of other uses where the desired look is to create something distinctly unique and vibrant. Riso has an element of unpredictability, so accepting the inherent flaws and experimenting is simply part of the charm. The point is to have fun.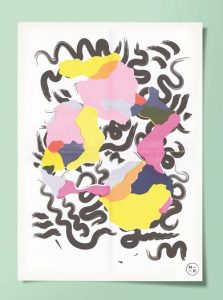 This article was originally published in GSM15. To read this and other great articles purchase this issue here.
Want to learn more about Riso Printing? Join us at our Risograph Workshop…
The team at BJ Ball are offering a hands on Risograph Workshop in Auckland (6 August '20) and Christchurch (13 August '20).
Explore the wonders of Risograph Printing by experimenting and printing your own 2 colour Riso Print Edition.
This workshop is open to professional designers, with a good understanding of graphic design. We'll run through the basics of how a Riso printer works, what it does best (and what it doesn't), what papers to print on and how to think about integrating Riso printing into your work. Leave with experimental prints and your own limited edition set of 2 colour prints.
Artwork can be produced either analogue or digitally, come prepared with an artwork you have already made (just make sure it fits into an SRA3 sheet and only uses two colours!) or create one on the night – just bring your own laptop, or if you want to go analogue, materials will be provided.
We'll be printing on BJ Ball Advance laser, ECO100 and Superfine Eggshell.
To purchase tickets click Auckland or Christchurch