In the battle against single-use plastics in packaging, board and paper play vital roles as renewable and highly recyclable alternatives. GSM talks with Kellie Northwood, from Two Sides, about decisions made around the design, production and disposal of packaging.
A natural, renewable & highly recyclable material
The environmental impact of discarded, man-made materials has reached critical levels. Many of these materials can last in the environment for hundreds, up to thousands of years. The existence of this waste can harm Earth's flora and fauna. There is a greater need, now more than ever, for packaging to be sustainable throughout the entirety of its life cycle. This helps reduce poor material choices that are damaging both brand reputation and the planet. As a natural, renewable and highly recyclable material, paper-based packaging can act as part of the solution to this crisis.
Smart packaging
Well-designed, produced and responsibly disposed-of packaging provides multiple benefits. It helps to improve efficiency in the supply chain and communicates vital information to the customer. It is important to consider incorporating eco-design at the inception stage of packaging, use responsibly sourced raw materials and efficient processes driven by renewable energy during manufacture. We need to reuse or recycle packaging wherever possible. After which we need to send it to the most appropriate end-of-life solution, such as incineration for energy generation or composting.
Recycling Stats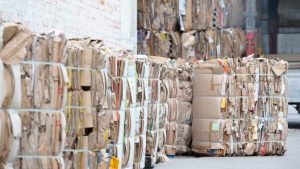 Luckily, paper and cardboard are the most recycled packaging materials in Australia and New Zealand. From 2018–2019, 63% of all paper and cardboard was recycled in Australia, the highest of any packaging material. This exceeded the 56% of recycled metallic, 45% of recycled glass and the mere 18% of recycled plastic packaging. As well as this, in Australia and New Zealand, we source fibre from sustainably managed and certified forests. The growing and harvesting of which is carefully controlled. Australia alone has 2 million hectares of plantation forests and New Zealand has 1.6 million, and growing.
Sustainable Packaging
There is an undeniable need for packaging in our society. It plays an essential role in minimising damage to a product when travelling and handled, while extending a product's life cycle. Without appropriate packaging, there would be a greater risk of wastage of the resources used to make the product. The global pandemic had a huge impact on the shopping behaviours of consumers and the ways brands and retailers sell their products. As consumers increasingly moved to online shopping, from groceries to high-end luxury items, the demand for transit packaging increased significantly. Worldwide e-commerce sales grew 16% in 2020 and we expect this growth will increase to 22% per annum by 2023. Packaging offers essential product protection and by using paper packaging we can ensure we are not compromising the environment.
Reduce, Reuse, Recycle
An additional benefit to paper packaging is that using sustainable packaging helps brands positively connect with consumers. Toluna demonstrated this in a 2021 survey, which found that Australian and New Zealand consumers are adapting their purchasing behaviours to reflect shifting environmental preferences. The survey showed 41% of Australian consumers and 58% of New Zealand consumers are actively taking steps to reduce their use of plastic packaging. More importantly, 43% of Australian and 47% of New Zealand consumers indicated that they would avoid retailers that are not actively trying to reduce their use of non-recyclable packaging. The study also showed that almost half of all consumers would pay more for a product if it came in sustainable packaging.
The Natural Choice
Paper packaging is the natural choice. It is durable, attractive, recyclable and biodegradable. It serves as an essential component of the circular economy. Not only is it the ecologically responsible option for business owners, it is proven to be the most preferred by customers.
For more information go to:  //twosides.org.au
GSM would like to thank Kellie Northwood, CEO @ Two-Sides for her assistance in writing this article.
This article was originally published in GSM20. To read this and other great articles purchase this issue here.